TimeDrop® Time Clock w/
U.are.U 4500 Fingerprint Scanner
Tweet
$159.00
Made and supported in the USA
Free full-feature demo
Free updates
Free phone & email support
Secure employee access
DigitalPersona U.are.U 4500 scanner included
Fast install & easy to use
Simple time tracking
TimeDrop® Time Clock is a simple to use time tracking application that will quickly and securely clock your employees/students in or out, organize time entries, allow you to manage permissions and provide real-time payroll and time & attendance reports.
TimeDrop Time Clock will turn your Windows computer (desktop, laptop or tablet) into a powerful time tracking system.
With streamlined features, biometric fingerprint scanner options and an easy to navigate interface, TimeDrop Time Clock is the perfect fit for any business looking to eliminate buddy punching and make time tracking a drop in the bucket.
No Catch, Just Quality Solutions
You get 1 license of TimeDrop Time Clock
You get 1 DigitalPersona U.are.U 4500 Fingerprint Reader w/ Drivers
You get free software updates!
You get free email, phone and remote desktop support!
You receive a same-day TimeDrop download so you can get started before the fingerprint reader and CD show up at your door.
You can enter as many employees profiles into the system as you like. There is no limit!
You only pay once for the software and you're done! There are no recurring software fees.
You can connect multiple computers together to share the same data. (one license/pc required)

TimeDrop Time Clock Features
Your purchase will include one full license of our TimeDrop Time Clock software.
Simple Time Tracking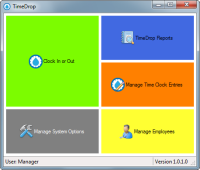 After a long day in the office nothing is more exhausting than sitting down to a nice pile of time cards. With TimeDrop, you can throw those cards out the window.
By using TimeDrop you will get the luxury of running one report, in either summary or detail, to see a total of all of the accrued time from your employees. Better yet, the reports can be run by any range of dates allowing the flexibility to run those reports at any time.
Grow with us!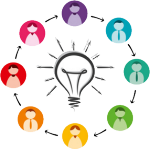 TimeDrop is constantly being enhanced in an effort to make it remain relevant among the industry. This is not a 10 year old program with no chance of being upgraded.
We encourage and engage our customer base, to help solidify new ideas for growth in our applications.
If you find your business outgrowing any of our products, whether it's CashFootprint or TimeDrop, we hope that you will share you needs with us so we do our best to implement them and make you a long-term, happy customer.
Easy In, Easy Out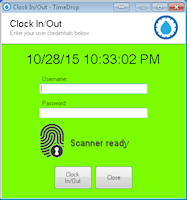 Clocking in and out is a drop in the bucket with TimeDrop. We'll create a streamlined icon on your desktop that takes you directly to the Clock In/Out screen. No need to deal with logging in first, simply enter your user credentials or press your finger to an integrated fingerprint scanner and clock in.
If you need to allow users to clock in or out with just a username or id, no problem; turn on the 'Allow username only' setting under Options and away you go.
The username only option is perfect for environments where employees use a badge or fob to clock in or out. TimeDrop even works with a keyboard emulating fingerprint scanners.
Enhanced Security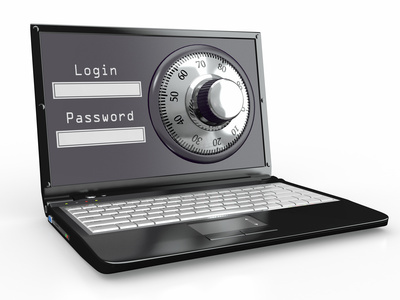 Data security is all the rage and TimeDrop Time Clock has you protected.
Keep prying eyes out of sensitive settings with configurable permissions.
Priority Support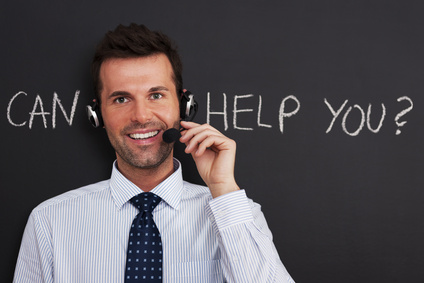 We value your business and first class support is our goal. No matter what, you always have free support during office hours.
TimeDrop Time Clock is designed to be easy to learn and simple to use; however, if you need assistance within the first 30 days we're giving you access to our Priority Support line.
Priority Support calls are answered in the order received, but ahead of all free support callers. After the initial 30 days you will still get the same great service, but the response time guarantee goes from same day to 1 business day. Priority Support is an optional $25 a month and well worth the investment.

Free Downloads
The Free Trial, Install Guide & User Manual
There one simple install, read the Install Guide for step-by-step instructions.
For an overview of TimeDrop Time Clock and the Quick Setup instructions, view the User Manual.

About the DigitalPersona U.are.U 4500 Fingerprint Reader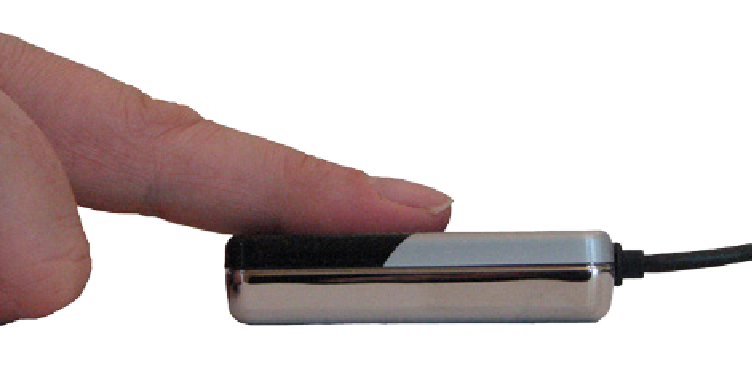 The U.are.U 4500 Fingerprint Reader is a USB peripheral perfect for individual desk top users, as well as multiple users in shared environments. Its compact design conserves desk space in enterprises, and its professional, modern appearance looks elegant in all business environments. The U.are.U 4500 Reader utilizes optical fingerprint scanning technology to achieve excellent image quality, a large capture area and superior reliability. A silicone coating allows it to read a wide range of fingerprints accurately and rapidly regardless of placement angle. The high-quality metal casing resists unintentional movement.
To use, simply place a finger on the reader window and the reader quickly and automatically captures and encrypts the fingerprint image before sending it to TimeDrop for verification. For superior user feedback, a red "flash" indicates that a fingerprint image has been captured.

Reader Features
Blue LED
Small form factor
Excellent image quality
Superior ESD resistance
Encrypted fingerprint data
Latent print rejection
Counterfeit finger rejection
Rotation invariant
Rugged
Works well with dry, moist or rough fingerprints
Compatible with Windows 8/8.1, Windows 7, Vista, XP Professional, 2000 and Windows Server 2000, 2003, 2008
Mechanical Specifications
Reader size (approximate): 65 mm x 36 mm x 15.56 mm (2 1/2" x 1 1/2" x 5/8")
Compatible with USB 1.0, 1.1 and 2.0 (Full Speed) specifications
Weight: 105 grams (3.7 oz)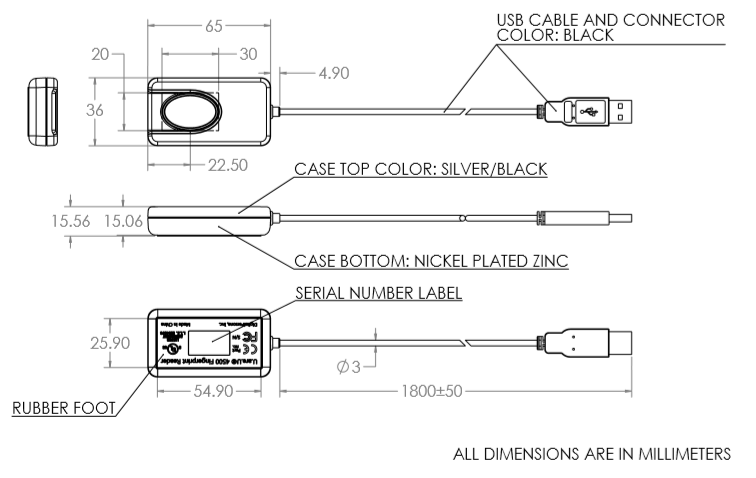 | | |
| --- | --- |
| Supply Voltage | 5.0V +/- 5% supplied by USB |
| ESD Susceptibility | >15 kV, mounted in case |
| Temperature, Operating | 0 - 40 C |
| Humidity, Storage | 20% - 90% non-condensing |
| Scan Data | 8-bit grayscale |
| Standards Compliance | FCC Class B, CE, ICES, BSMI, MIC, USB, WHQL |
| Interface | USB 2.0 Full-speed High Power Device |

PC Requirements
Windows 7 or newer
.NET Framework 3.5
Processor: 1.0 GHz min, 2.0 GHz or faster recommended
Memory: 512 MB min, 1 GB or more recommended
Hard Disk: 20 MB min, 2 GB or more recommended
Microsoft Windows Installer 3.1 or a later version

Shipping & Returns
Shipping
We send a CD via Priority Mail shipping (US Only). Ships within 1-2 business days.
We will also send download instructions via email the same day as the purchase.
Note: Orders outside the US will be available for same-day download only.
Returns accepted if...
Within 30 days from the date of purchase.
The software has NOT been activated/registered.
Note: The software is considered active/registered, as soon as the code is sent to the requestor (you).

Free Support
Office Hours: 8am-5pm CST, Mon-Fri
This purchase comes with free email or phone support during our office hours. (1 business day maximum response time, typically same-day)
Get help faster with same-day Priority Support! Optionally available for $25/month.